When I first drafted this article I was keen to talk about the various different apps available to support teachers using augmented reality (

AR

). I remember, a very long time ago, watching "Click" on BBC1. The chap presenting the show was demonstrating a dragon coming alive by hovering his phone over an image of it. I distinctly remember the excitement I felt when I thought about the prospect of using this technology in teaching. I actually thought it would be a long time until these devices could be used on the front line.

AR has been around for a very long time but is slowly creeping into the tool kit of the confident technology teacher.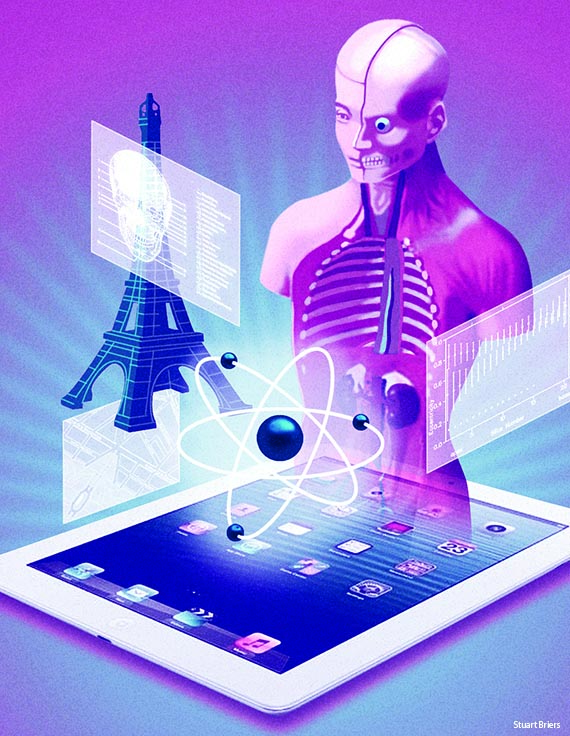 Before we dive into specifics here, it's important for me to state the simple teacher criteria that

I

personally use to assess if technology will be of benefit in the classroom:
1. Will it positively impact the learners?
2. Is it relatively quick and easy to set up?
Very basic, I know, but these key principles ensure that the process can be embedded into my teaching practice for future need. There is no benefit in trying something that doesn't have an impact and it is also silly to spend hours setting technology up as you probably won't use it in the future. It's a question of effort vs. output.
With this in mind, and based on my own use of augmented reality, I have come to a conclusion; currently,

there is only one AR app on the market that teachers can use in their practice

. This is based on my own criteria as above and on the premiss that the technology is used by the teachers in an individualized manner. I know that there are some really useful apps (Geo Goggle & Google Sky Map) to develop thought, imagination and in some instances can link to a topic taught. My statement is based on the opinion that these apps cannot be used every week and embedded into the planning process for each session. It is just too time consuming at the moment.
Layar is currently the most effective AR app around for educators. It has become easily embedded into my classroom and the students can use this to positively impact on learning. The only real contender that I am aware of which can challenge is Aurasma. Whilst the potential of this app for teachers is exciting,

the reality is that it simply takes too much time to set up and create

. For anyone looking to try AR for the first time it could be a damaging and off-putting experience. Whereas Layar has many positives:
Easy to use and can be set up within minutes

Range of media can be embedded

Available on various smartphones and tablets

Relatively small data usage (this is a big deal with the students!)

Students can take away their device from the image once the media is opened (Particularly useful if you have a large class)
To propose that only one real AR app is ready for the front-line is quite a statement and it would not be supportive if I did not identify some of these potential issues you might want to make yourself aware of when using Layar:
If you print the image off to give to the students (useful for homework) you need to ensure it is perfect. I've tried both colour and black/white copies but still have issues. I would recommend using photocopy card and/or embedding the image onto the interactive white board (remember that with Layar the device can be taken away from the image once it has stated to play).

This is the main reason for any issues that impact usage of the app

.

Unless you pay for the pages you need to include advertising to keep it free. It's worth explaining this to the students as they will click through, causing disruption to the session.
Very soon I predict that this technology will be fully embedded into the teaching and learning experience. The future of education will become immersed within this wondrous phenom. The potential is massive. Picture the students in their Google glasses as a history lessons comes alive or the ability for teachers to review an observation from a 1st person perspective, with key learning styles popping up on a student's head as they are asked a question.

Whilst these thoughts are very exciting, we need focus on the implementation of AR in everyday practice.
Please do share your thoughts.